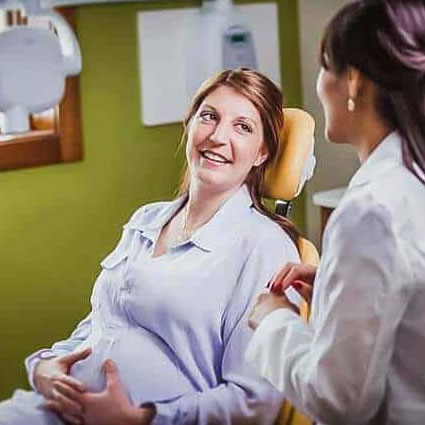 Between frequent visits to your doctor, touring daycare centres, purchasing a crib, and childbirth classes, your schedule during pregnancy can fill up quickly.
And missing one of your dental visits during this critical nine months. It's only nine months, after all, and surely that is OK?
The answer: Absolutely not. But it's a message many expecting moms aren't hearing.
A 2015 study found that nearly 50 percent of pregnant women skipped their dentist appointments.
Unfortunately, these visits can be critical during pregnancy. And they are safe as well!
Not only can get cleanings and necessary dental work safely completed before your baby arrives, but a visit to your Caringbah Dental dentist can resolve any pregnancy-related dental problems you may be experiencing. As a bonus, these visits help keep you and your baby healthy!
Dental work during pregnancy
Many expectant moms assume that even if they're in need of dental work, they should wait until after childbirth—but in fact, teeth cleaning, dental X-rays, and local anesthesia received during routine dental treatment are extremely safe for expectant women.
Putting off necessary treatment is likely to lead to further complications. One advantage to receiving essential dental work during pregnancy is that it may decrease your chances of passing cavity-causing bacteria onto the baby, which seems to lessen your child's future risk of cavities.
As for when dental work should be performed, many dentists recommend taking take care of dental procedures by the end of your second trimester, particularly because in your third trimester it may be difficult to become comfortable in a dental chair.
For complete safety, the second trimester is also a period in which organ development is complete in the child.
Potential issues
Pregnancy can be slightly complicated for dental health. According to the Australian Dental Association:
Hormonal fluctuations normal during pregnancy can worsen problems with your teeth and gums. This is why it is necessary to schedule regular check-ups and cleanings.
Other issues may arise as well.
Dealing with food cravings and morning sickness
Unusual food cravings are a fact of life for many pregnant women. If your cravings tend towards the sweet side of things, stay away from sugary snacks and instead choose healthier options such as fruits, natural yogurts, and the like.
If you suffer from morning sickness, you should be aware that vomit is highly acidic and can cause irreversible damage to your teeth. Don't brush your teeth after vomiting, however.
Instead, wait an hour or so as brushing too soon can strip away the enamel. While you're waiting, rinse your mouth with water to remove the acids, chew sugar-free gum or eat acid-neutralising foods like milk or hard cheese.
Brushing and flossing
Keeping to your regular oral health routine is critical when you're pregnant since hormonal changes increase your susceptibility to gum inflammations and infections. Some women suffer from "pregnancy gingivitis", in which gums swell and become more sensitive and bleed during brushing and flossing. This condition normally resolves itself after childbirth.
Pregnancy Tumours
In some pregnant women, overgrowths of tissue called "pregnancy tumours" appear on the gums, typically during the second trimester. These are not cancer but swelling that occurs most often between teeth. They bleed easily and have a red, raw appearance. They usually disappear after your baby is born, but if you are worried, talk to us about removing them.
Medications
Make sure your dentist knows what prescription medications and over-the-counter drugs you are taking. Both your dentist and physician want the best for you and your baby, so ask any questions you have about the medications they recommend.
So, if you are a pregnant woman, it doesn't make sense for you (or your baby), to skimp on dental care during pregnancy. And have no worries, at Caringbah Dental Care we are expert and practised at caring for the dental health of pregnant women. And once you have your child? We're great at children's dentistry also!
Payment
We accept EFTPOS debit cards and Visa, MasterCard, American Express credit cards. There is no surcharge for credit cards.
We have HICAPS for instant claims from your health funds.
Our clinic is a NIB First Choice Provider, providing affordable dental care.
We bulk bill treatments under Medicare Children's Dental Benefit Scheme, Veteran's Affair, and NSW Oral Health Fee For Service Scheme (OHFFSS)
No Gap NIB
No gap treatment for all preventive treatments (exam, fluoride, fissure seals and xrays) for all NIB customers with extra cover (excludes fillings, extractions and major dental treatments).
Call (02) 9524 7047 or visit us at Shop 3/10-20 Mackay St in Caringbah.
CONTACT US
*Any surgical or invasive procedure carries risks. Before proceeding, you should seek a second opinion from an appropriately qualified health practitioner.


Caringbah Dental Care | (02) 9524 7047