Dentures in Caringbah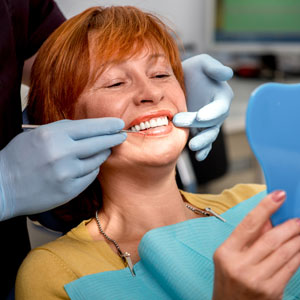 Nowadays, missing teeth pose little to no problem. Thanks to modern dentistry and your trusted Caringbah Dental Care dentist, you have multiple tooth replacement options.
Dentures are one of the many options to choose from at our dental practice. Made of durable materials, they can give you a smile that matches your happiness.
What Are Dentures?
A denture is a dental appliance worn in the mouth to replace missing teeth and also their adjacent soft tissues. It is composed of false teeth attached to a plastic called acrylic, or to a metal called cobalt.
If you have no natural teeth left, an acrylic denture is generally the best for you. However if you still have a few natural teeth left, we recommend a metal denture. In a metal denture, clasps or metal wires are placed to clip around your natural teeth and stop your denture from rotating. Cobalt dentures have properties creating the perfect balance between deformation, stiffness, and elasticity, allowing them to last for a long time.
What Are the Different Types?
There are three types of dentures:
Complete dentures: Complete dentures are best when there are no natural teeth left. The entire upper and lower arches are replaced with false teeth.
Partial dentures: If there are still natural teeth left, partial dentures are often used. The dentures are connected to the natural teeth by metal clasps.
Implant dentures: The third type of dentures are fixed, as opposed to the first two. A dental implant is first surgically implanted in the jawbone. This serves as the anchor to which the false teeth are fastened.
What Are Some Benefits?
Each dental treatment/equipment provides answers to a unique dental issue, hence delivering wonderful results. Dentures not only replace missing teeth but also have the following benefits:
Return natural face structure
Better bite and chewing capacity
Improved speech
Keep face from sagging
Can be removed for better cleaning
Dentures at Caringbah Dental Care are made of durable materials, enabling you to fully participate in your teeth's functions such as chewing and biting.
Important Things to Remember
Although dentures are made of durable materials, they still have limitations. The following are important things to remember and consider in getting a denture.
Perfectly-fitted dentures do not fall out. However, your measurements may change over the years causing your dentures to fall.
Dentures are durable but they do not last forever.
Your dentures have to always be moist. Soak them in a denture cleanser or clean water every night.
Your dentures have to be brushed as well. Use a soft-bristled toothbrush.
Do not repair your broken dentures yourself. Drugstore repair kits can only do more damage.
Durable Dentures at Caringbah Dental Care
Dentures are just one of the many choices at our dental practice. Talk to your dentist to learn the best option for you.
Call (02) 9524 7047 or visit us at Shop 3 10-20 MacKay Street in Caringbah.
CONTACT US

Dentures Caringbah, Caringbah South NSW | (02) 9524 7047