Dental Implants in Caringbah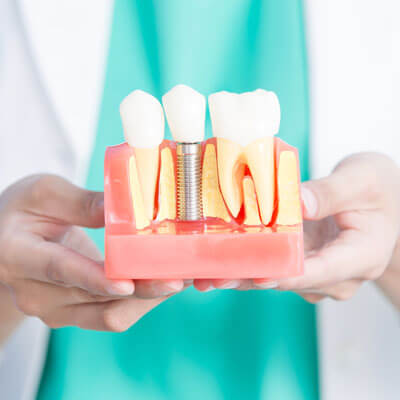 Replacing missing teeth has become easier with modern dental innovations. Dental implants are just one of the many options you can choose from. Each option effectively replaces your missing teeth and returns strength and beauty to your smile.
At Caringbah Dental Care, we fabricate premium quality dental implants for your dental needs.
What Are Dental Implants?
A dental implant is a titanium or metal post surgically inserted into the jawbone to serve as the root of the tooth. The dental implant has three parts:
Dental implant – A titanium post inserted into the jawbone to serve as the tooth of the root.
Abutment – Connects the dental implant to the replacement tooth.
Dental crown – Tooth-coloured replacement tooth.
A dental implant is a permanent solution to missing teeth.
Why Is It Important to Replace Missing Tooth/Teeth?
A missing tooth/teeth means more than just an empty space in your mouth. It can lead to more dental issues such as:
Bite difficulty
Shifting out of position of remaining teeth
Disrupted distribution of pressure during eating
Not enough support on your cheeks, giving a hollowed look to your face
Once a dental implant is inserted, balance returns and your jawbone can fully support your lips and cheeks.
Benefits of Dental Implants
Dental implants are a popular dental restoration option because of their many benefits such as:
Improves biting and chewing capacity
Dental implants are durable and can effectively take on your teeth's job during eating. With dental implants, food limitations are lessened. You can go back to eating your favourite foods.
Provides stability in the mouth: With the missing tooth replaced, the pressure that occurs during eating is now properly distributed among the sections of the mouth.
Permanence and durability: Dental implants are permanent. Once inserted, they don't fall out. With proper dental care, they can last as long as natural teeth.
Improved oral health: Your overall oral health is improved with the dental implants in place. Implants stop dental issues arising from missing teeth, such as unwanted shifting of remaining teeth.
Looks and feels like your natural tooth: Your dental implants are made to feel and look like your natural teeth
Improved appearance: With your missing teeth replaced, the natural structure of your face and cheeks is returned.
Free Dental Implants Consultation at Caringbah Dental Care
There's no need to suffer any longer because of missing teeth. We can help bring the beauty and strength back to your smile. FREE Consultation available!
Call (02) 9524 7047 or visit us at Shop 3, 10-20 MacKay Street in Caringbah.
CONTACT US

Dental Implants Caringbah, Caringbah South NSW | (02) 9524 7047