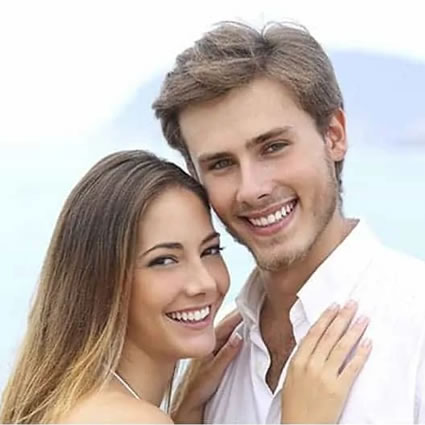 Your appearance (and how you feel about it) can have a huge impact on your life.
If you don't like a physical feature, it can have an effect on your social life, love life, and even your career.
And perhaps no single physical feature has as much impact as a smile.
At Caringbah Dental Care, we have 7 brilliant ways to improve the appearance of your smile and your confidence!
How Critical is Your Smile?
You never have a second chance at a first impression, and your smile is one of the first things people notice when they meet you.
In one study, 47% of responders said that a smile was the first thing they noticed when they met someone. An attractive smile is part of a good first impression and a memorable one as well.
Simply put, your smile impacts how you are perceived—a brilliant smile makes you seem more attractive, intelligent, and successful.
And if you don't smile, you actually become unhappier and more stressed! Smiling releases a flood of feel-good brain chemicals, including serotonin, dopamine, and endorphins. Smiling also seems correlated with living longer! Basically, an attractive smile can make most everything in you life a little bit better!
Studies Show Avoiding the Dentist Makes You Unhappier, Sapping Confidence
Research also demonstrates that people who avoid their regular dental visits tend to be unhappier, and unhappiness saps our confidence. This is because people who regularly skip dental visits are more prone to missing teeth, gum disease, or other oral health issues that negatively affect their day-to- day life.
The research also showed that people who neglected to care for their oral health were likely to have poorer overall health. People who have a healthy, beautiful smile are more likely to be happier and take better care of their bodies than people who don't. This is why a stunning smile is critical—not just for overall health, but for your happiness and confidence!
So, what are the 7 ways (and there are more!) that Caringbah Dental Care can help?
The benefits of upgrading your smile are both physical and emotional. An improved smile makes you better looking and boosts your confidence. If your smile is not all you want it to be, Caringbah Dental Care has solutions!
Payment
We accept EFTPOS debit cards and Visa, MasterCard, American Express credit cards. There is no surcharge for credit cards.
We have HICAPS for instant claims from your health funds.
Our clinic is a NIB First Choice Provider, providing affordable dental care.
We bulk bill treatments under Medicare Children's Dental Benefit Scheme, Veteran's Affair, and NSW Oral Health Fee For Service Scheme (OHFFSS)
NO GAP CHILDREN
No gap treatment for all preventive treatments (exam, fluoride and fissure seals) for all children under 16 years covered by health funds with extra/ancillary covers (excludes fillings, extractions and major dental treatments).
Call (02) 9524 7047 or visit us at Shop 3/10-20 Mackay St in Caringbah.
CONTACT US
*Any surgical or invasive procedure carries risks. Before proceeding, you should seek a second opinion from an appropriately qualified health practitioner.