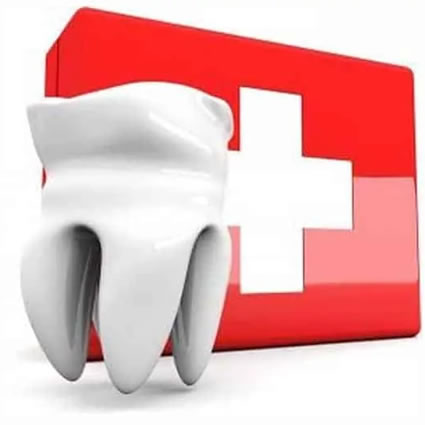 All of us have lost a tooth, naturally, during childhood. After all, our first set of teeth fall out and, normally, this leads to a visit from the Tooth Fairy. But losing a tooth by accident is an unusual and frightening experience, particularly if the tooth is lost as the result of unexpected trauma.
At Caringbah Dental Care, we sincerely hope you keep all your natural teeth, but if you do have a tooth knocked out, we want you to have the first aid info you need to save that tooth!
Fortunately, if you have a solid plan and act quickly, most knocked out ("avulsed") teeth can be reinserted and saved!
Step Number ONE! Have Contact Info for Caringbah Dental Care Available
The single most important thing to do is contact your dentist immediately! At Caringbah Dental Care, we make sure that we are always prepared for any dental emergency.
If you or your loved ones have a dental emergency, you can trust your Caringbah Dental Care dentist to respond quickly and effectively. Same-day emergency appointments are available!
The chance of saving a knocked-out tooth is highest for young children, but adult teeth can be saved as well. In children, only permanent teeth should be re-implanted.
Follow these suggestions to improve the chances of saving a tooth:
Handle the tooth delicately. Don't touch the root as it can be easily damaged and damaged roots have difficulty reattaching.
If the tooth has been dirtied, hold it by the upper part and rinse it carefully with milk. If milk is not available, rinse the tooth with water. Don't us a cloth of any type as they can damage the tooth.
Try reinserting the tooth into its socket. If you are lucky, it will slip right in, although it may feel a bit uncomfortable.
Don't force the tooth into its socket. NEVER reinsert a tooth in the mouth of someone who appears drowsy/woozy or is unconscious!
If the tooth will not reinsert, be sure it stays moist. Temporarily hold the tooth in a glass of milk. If milk is unavailable, hold the tooth in your mouth, resting it gently between your cheek and gum. Children may not be able to safely hold a tooth in their mouth without swallowing it. In that case, have the child spit into a cup and place the tooth in the saliva. As a last resort you can hold the tooth in a cup of water.
There are no guarantees when it comes to reinserting a tooth, but quick and smart actions can increase your chances of saving the tooth, and in turn, save you money.
The tooth normally requires a root canal treatment, but the dental treatment for a lost tooth is replaced with a bridge or implant. So, trying to save the tooth is the best and most inexpensive option.
At our office, we will clean the socket and begin the reinsertion of the tooth. Sometimes re-implantation is simple, other times it can be complicated, especially if the tooth or bone near the socket is broken.
Your tooth will be anchored to the socket using a splint to the neighboring teeth. This splint will hold the tooth in place for several days as the area heals. If you need a root canal it may be performed immediately or your Caringbah Dental Care dentist may choose to wait. Generally, the tooth's root will reattach to bone within a month or so. If the surrounding area was severely damaged healing may take longer.
Accidents cannot always be prevented, but if you play sports you can minimize your risk of avulsion by wearing a mouth guard. They can be purchased at pharmacies and sporting goods stores but it is far safer to let Caringbah Dental Care customize a personally fitted guard, which is more comfortable and fits better for added protection.
*Any surgical or invasive procedure carries risks. Before proceeding, you should seek a second opinion from an appropriately qualified health practitioner.