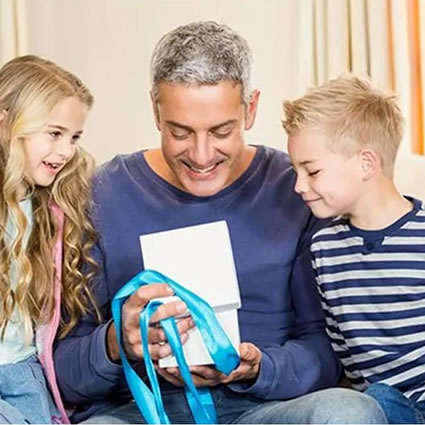 Father's Day is on September 2nd, and that means a gift for dad. This is a dental blog, so if you're looking for a tie or coffee cup recommendation, you're in the wrong place.
But if you're looking for some thoughtful, useful gifts to protect your dad's oral health, Caringbah Dental Care has some good suggestions.
Did you know that men are less likely to get dental treatment than women? And because oral health has been linked to serious, chronic health issues, like heart disease, cancer, dementia, and diabetes, it is critical that no one neglects their dental care.
With Father's Day right around the corner, now is the perfect time to give the special dad in your life the lifesaving gift of oral health.
Strange dental floss collection
If you can't think of anything else, how about a gift basket of dental floss? Dental floss comes in a lot of unusual flavours including cupcake and bubble gum! If neither of those seems a good choice for your dad, you might consider bacon!
Not only can you buy your dad bacon-flavoured floss, but you can also get an entire package of bacon-themed grooming supplies including bandages, floss, toothpicks, soap, lip balm & breath mints!
If your dad doesn't like bacon, or can't eat it, consider: Dill pickle floss; Breakfast floss that tastes like waffles, bacon, and coffee; Absinthe; or; Ranch dressing flavoured floss. The range of available flavours is fantastic!
Personalised toothbrush holder
Available online or an easy DIY project, a customised toothbrush holder can give a personal touch to your Dad's bathroom, and is easy and inexpensive to make or purchase!
Noise-cancelling headphones
Noise cancelling headphones can be used during dental procedures. Your dad can listen to his favourite music, movie, or television show without having to hear the sound as dental work is being performed. These can be a great gift for Dads with dental fear, as the music can help them relax in the dental chair.
Mouthguard/Splint protection
Is your dad an athlete? If so, you might consider giving a customised mouthguard to protect his teeth. The Australian Dental Association recommends custom-made mouthguards for athletes. Professionally made mouthguards help prevent concussion injuries, damage to teeth, soft tissues and gums. They can be customised to fit your dad's jaw and teeth.
At Caringbah Dental Care, our goal is to make sure that you have strong, healthy teeth protected even during fun! Enjoy our custom-fitted mouth guards and night splints for optimal protection including during sleep.
Mouthguards and splints at Caringbah
The gift of a white smile!
At Caringbah Dental Care, we can restore the shine to your Dad's teeth. If age has dulled your Dad's smile, Caringbah Dental Care has two options for tooth whitening.
The in-office whitening option takes place under the close observation of your dentist and can give immediate results after just one visit!
Home teeth whitening gives your Dad the liberty of treatment in the comfort of his own home and at his own pace.
Other dental treatments for Dad!
Your dad might be interested in some of these dental procedures that improve smiles:
Veneers. Veneers can hide nearly any cosmetic flaw, including chips, stains, small gaps, and worn-down teeth.
Invisalign. If dad has a bit of a crooked smile, he'll be thrilled with Invisalign. Invisalign uses a series of clear plastic aligners to straighten teeth. Aligners are removable, which means he'll never have to skip foods for fear of getting them stuck.
Dental Bonding. Dental bonding is inexpensive and quick, taking only 30-60 minutes. Dental bonding treats a number of dental problems including cracks, chips, fractures, small gaps, discolouration and irregular shape.
Visit Caringbah Dental Care regularly
Regular dental check-ups at Caringbah Dental Care are essential to maintaining your Dad's good oral health. We can check for problems that you might not see or feel, like early signs of eroded teeth. So schedule Dad's appointment!
Our Current Promotions
FREE Consultation for Dental Implants and Wisdom Tooth
10% discount for seniors card holder (www.seniorscard.nsw.gov.au)
Call (02) 9524 7047 or visit us at Shop 3/10-20 Mackay St in Caringbah.
Payment
We accept EFTPOS debit cards and Visa, MasterCard, American Express credit cards. There is no surcharge for credit cards.
We have HICAPS for instant claims from your health funds.
Our clinic is a NIB First Choice Provider, providing affordable dental care.
We bulk bill treatments under Medicare Children's Dental Benefit Scheme, Veteran's Affair, and NSW Oral Health Fee For Service Scheme (OHFFSS)
*Any surgical or invasive procedure carries risks. Before proceeding, you should seek a second opinion from an appropriately qualified health practitioner.