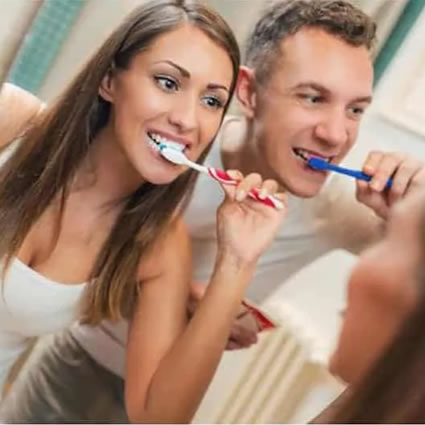 With technology improving in leaps and bounds, we see improvements everywhere, from our computers to our cars.
Medical care has had more than its share of improvements, from better X-Ray machines, digital technology, to lasers, all of which are frequently used to improve the lives of many a patient.
But, alongside these improvements, there has been a quieter but important improvement in the technology used in dental care at home. At Caringbah Dental Care we help you in our office, but we also want you to have the highest possible level of dental care at home.
With that in mind, we have compiled a list of convenient home dental technologies, all of which are available over-the-counter, that can help you maintain tiptop oral health!
Electric Toothbrush
We've been taught to brush our teeth since childhood. Despite this, we're not always brushing as thoroughly as we can, partly because the bristles on manual toothbrushes cannot remove all of the plaque and tartar built up between your teeth.
An electric toothbrush's rotating head features bristles that reach further thanks to the combination of motion and equal pressure from the brush itself. Most electronic toothbrushes also have timers for each quadrant of the mouth, ensuring better, longer brushing.
Kids and those with flexibility or mobility issues can be the biggest beneficiaries of electric toothbrushes, which require less technique and coordination to use and almost do the brushing for you!
Oral Irrigators
Oral irrigators shoot a steady stream of water into your mouth to dislodge food from hard-to-reach places between and around the teeth. This can be particularly useful for teens, who might have trouble cleaning around their braces, for people with fixed partial dentures, and people with crowns.
Interdental Cleaners
If floss alone isn't keeping the spaces between your teeth clean, you should consider interdental cleaners. These brush-like tools fit between teeth and other tight spaces. Like oral irrigators, these can be useful for people with braces and other dental appliances.
Plaque disclosing tablets and mouth mirrors
There is a simple way to keep track of the hidden plaque in your mouth. All you need is a mouth mirror and plaque disclosing tablets from any local pharmacy.
Disclosing tablets are placed in the mouth and chewed thoroughly. Rub the tablet particle around your teeth with your tongue and swirl the saliva in your mouth for about one minute before spitting and rinsing with water. The disclosing tablet dye will have coloured the plaque on your teeth.
Now, take your mouth mirror and you can look at all of your teeth, even those not visible from the outside, to see where plaque resides. Now you know where you should focus more attention!
These tools can be very helpful. Feel free to discuss what might be best for you with the helpful staff at Caringbah Dental Care. Then, take advantage of your visit to schedule a full checkup!
NO GAP CHILDREN
No gap treatment for all preventive treatments (exam, fluoride and fissure seals) for all children under 16 years covered by health funds with extra/ancillary covers (excludes fillings, extractions and major dental treatments).
Call (02) 9524 7047 or visit us at Shop 3/10-20 Mackay St in Caringbah.
*Any surgical or invasive procedure carries risks. Before proceeding, you should seek a second opinion from an appropriately qualified health practitioner.